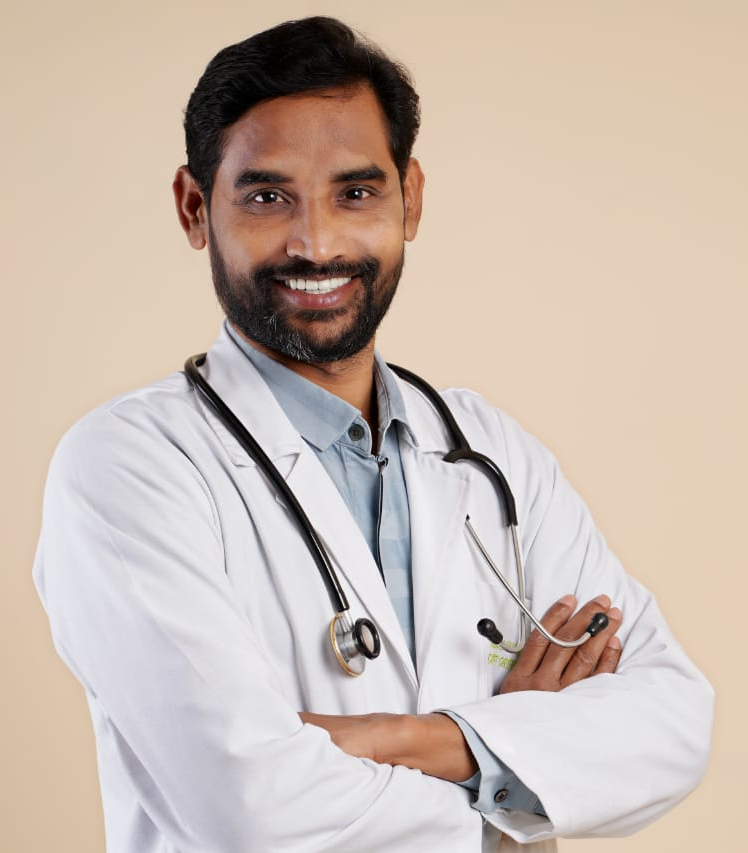 Dr.Jalapathi Reddy : One of the best Orthopaedic Surgeons in Hyderabad.
Dr Jalapathi Reddy Mandala is a well-known orthopaedic surgeon with 20 years of vast experience in joint replacements and complex trauma and minimally invasive (Key hole surgery) surgeries. He was the founder director of Ozone Hospitals and currently running his surgical-centre named Dr Jalapathi Reddy Orthopedic Centre in Vanasthalipuram, Hyderabad
Dr Jalapathi Reddy Mandala graduated from Kakathiya Medical College(MBBS), Warangal, AP. He did his Post Graduation from Gandhi Medical college, Secunderabad(2003-2005). He did his fellowship in joint replacements and adult joint reconstruction (ZIMMER fellowship) from KIMS for 2 years under Dr. AV Guruva Reddy. He did his joint replacements fellowship (Depuy Johnson & Johnson) from University Clinicum, Mannheim, Heidelberg, Germany under Dr. Peter Schroff (Depuy Designer surgeon). He worked with Dr. Vijay Bose for HIP replacements. Dr. Jalapathi Reddy Mandala started Ozone Hospitals(200 beded multi super speciality hospital) with all orthopaedic subspecilities except orthopaedic oncology.
Brief Introduction
Dr. Jalapathi Reddy Mandala is one of the best Orthopaedic Surgeons in Hyderabad. He is well known for the best standard patient care and expertise in Orthopaedics. His prominence lies in his professional conduct and work ethics. He has 100 percent success rate in his surgeries and the lowest lay-off rates reflect his clinical excellence.
Experience
20+ Years of overall experience
Currently working as a consultant orthopedic and join replacement surgeon at Dr. Jalapathi Reddy Orthopedic center, Vanasthalipurram, Hyderabad
Worked as the Chief Orthopedic Surgeon at Ozone Hospitals Hyderabad (2013-2021)
Zimmer Fellowship in Joint Replacements under Dr. Guruva Reddy at Kims Hospitals Sec-bad
Assistant professor in Deccan Institute of Medical Sciences, Hyderabad (2002 - 2006)
International Courses Attended
AO Pre-basic course Hyderabad, 2008
AO Course on Principles in Operative Fracture Management, May 2009, Bengaluru
AO Trauma Advances in Operative Fracture Management Course, March 2011, Kolkata
AO Masters Course, Mumbai, 2012
Hip Resurfacing (BHR) Procedure course. October 2010, Chiangmai University, Thailand
AO Pelvic course – advanced at Bengluru 13-16 Sep 2014
AO Trauma Masters course in lower extremity in 2015 at Ahmedabad
Depuy Primary and Revision Knee Orthopasty course in Bangkok,2015
AO MIPO(Minimally Invasive Surgeries) at Kolkata, 2009
VISION
Our vision is –"One of the best tertiary care Orthopedic speciality hospital in India, providing care and comfort to million".
Mission
To take Orthopedic care to a new level with all orthopaedic subspecialties using technology, Dr Jalpathi Reddy's' mission is to deliver evidence-based advanced all subspecialties through a holistic approach which is inclusive of all subspecialty work at one place
Dr. Jalapathi Reddy Mandala passionately supports awareness (Weekly health camps awareness programs), training programs & ethical practice. Dr Jalapathi Reddy aims to play an active role in the nation building process through a host of CSR (Corporate Social Responsibility) initiatives and non-profit projects.